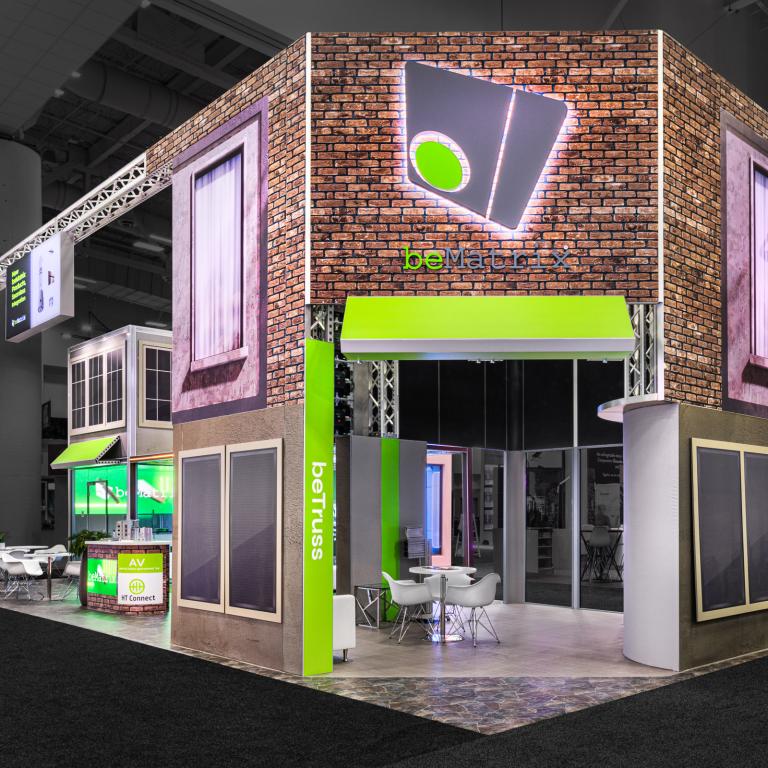 beMatrix Makes Big Splash at EXHIBITORLIVE
From April 23rd to April 26th, beMatrix attended EXHIBITORLIVE in Louisville, Kentucky. It was a great opportunity to meet with the people within our industry and catch up with old friends. Many of the people that we spoke with were excited to see what we had in store for them this year, especially when they first saw our booth. Let's dive in and take a look!
EXHIBITORLIVE is a tradeshow where exhibit builders, AV companies, graphics companies, and manufacturers like beMatrix® are front and center showing off their capabilities and latest innovations. With so many different exhibits present, we knew that we had to bring our "A game."
We designed our booth to provide an open, warm, and comforting atmosphere to our guests. Open seating areas combined with big structures allowed us to make the most out of the space we had without compromising the overall feeling of our design. This allowed us to set up product demonstration stations and showcase the beMatrix® system to attendees.
From near-endless customization to its lightweight and sustainable nature, the beMatrix® system provides endless possibilities and benefits to its users. Along with our product catalog, we showcased the support tools and services that beMatrix® provides. We gave demos of beCAD (our 3D CAD software tool) to demonstrate the ease of turning a design idea into a quote request in minutes. Recognizing sustainability as important to our customers, we also showcased our brand-new Carbon Footprint Calculator.
Join us as we highlight the stand-out moments of the exhibit, the software tools we demonstrated, and the groundbreaking products we unveiled.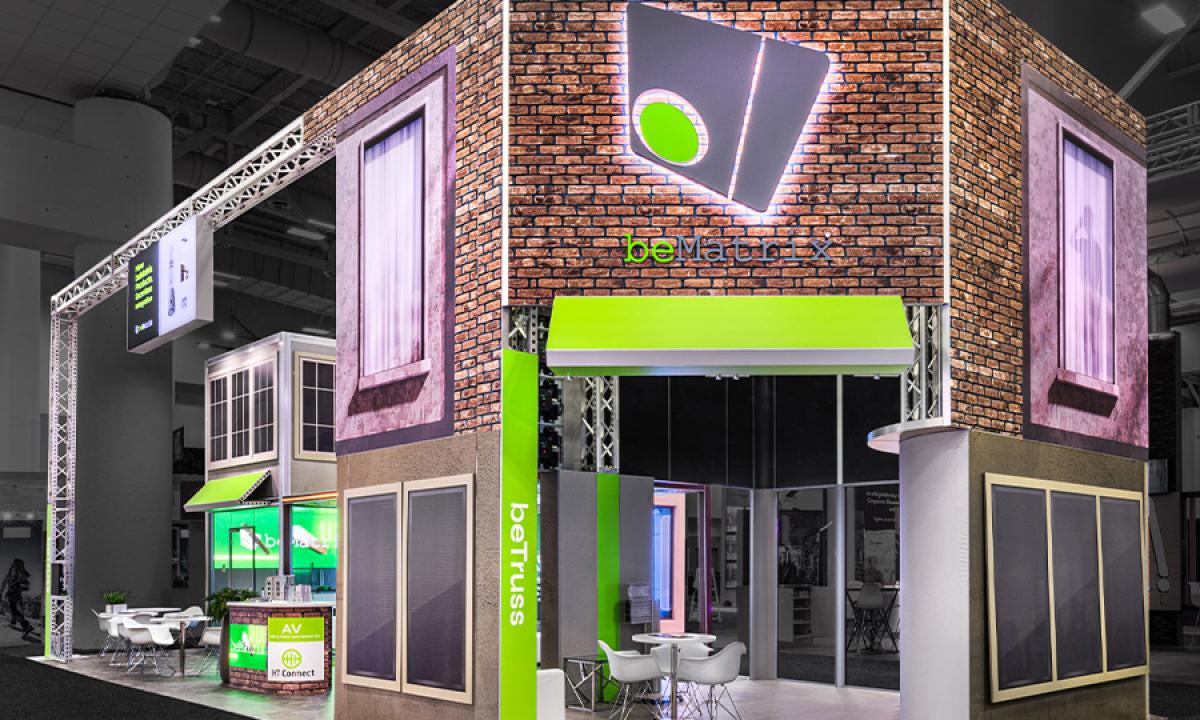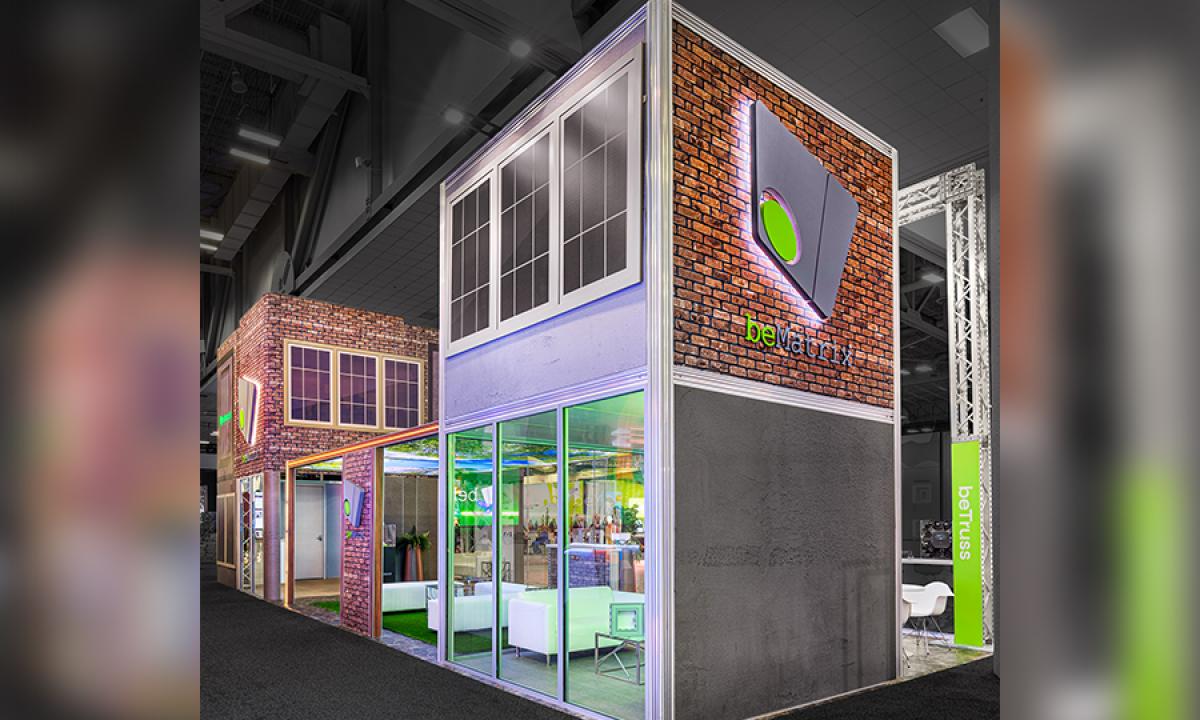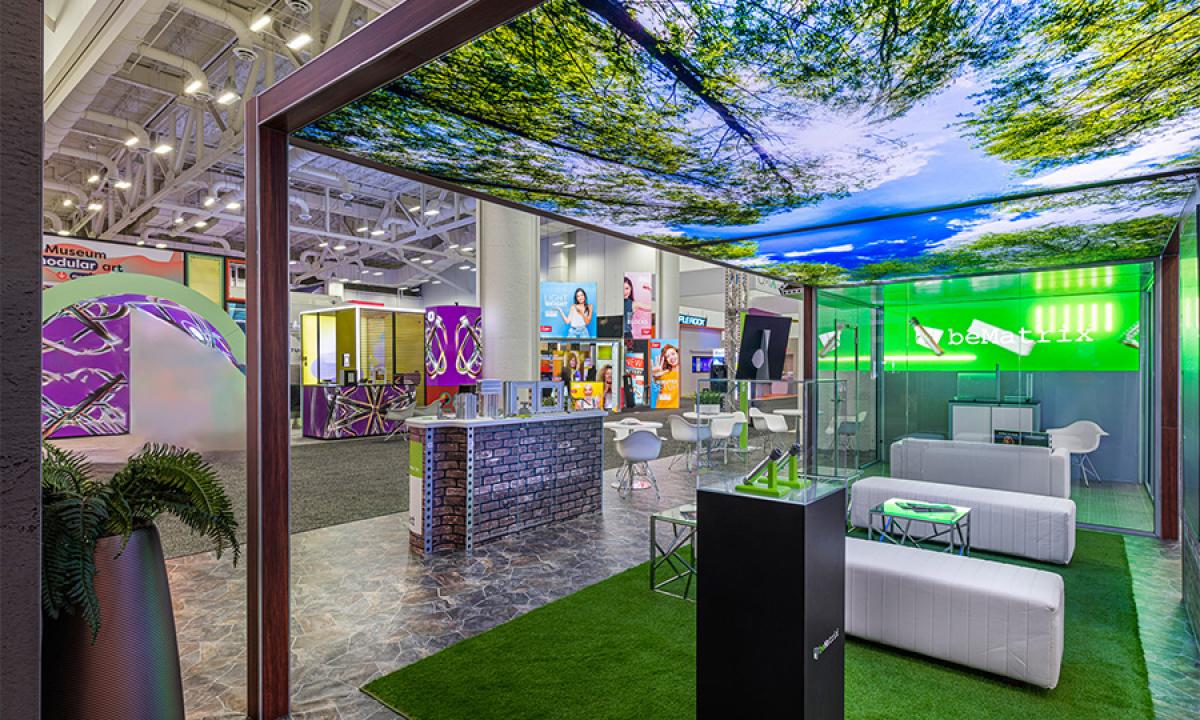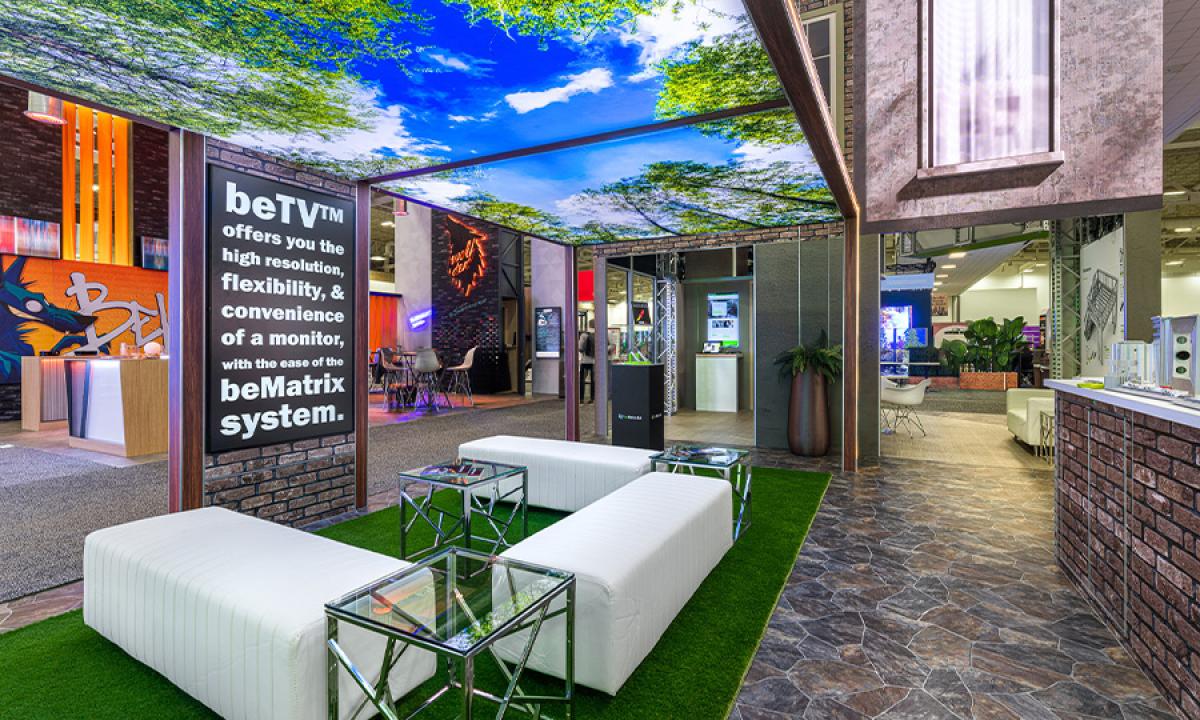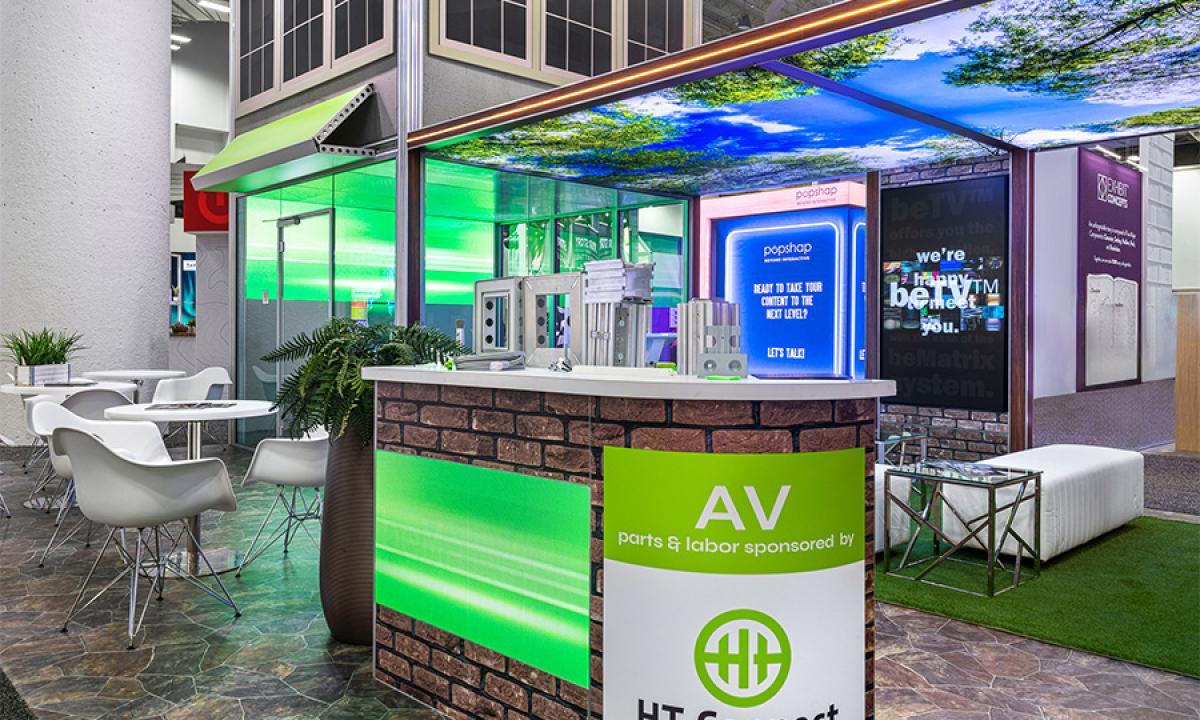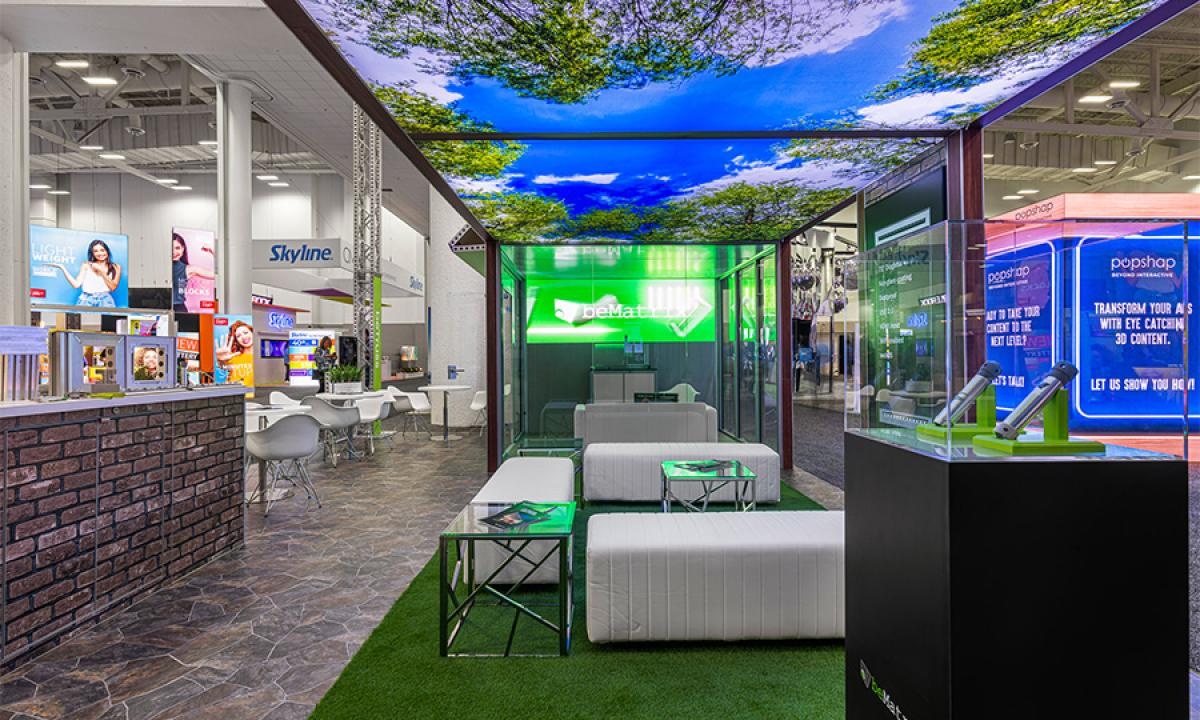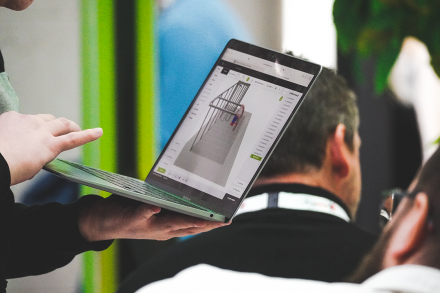 beCAD Web & Inventor
When it came to our service demonstrations, beCAD was by far the most popular. Attendees lined up one after the other to learn more about how they can make their designs directly from our website. Our knowledgeable staff gave in-depth explanations of the advantages of using the beCAD online tool and the new beCAD Inventor plugin. With a wide variety of handy features and an easy-to-use interface, there was plenty to be learned by all our guests. Start drawing in beCAD by clicking the link below!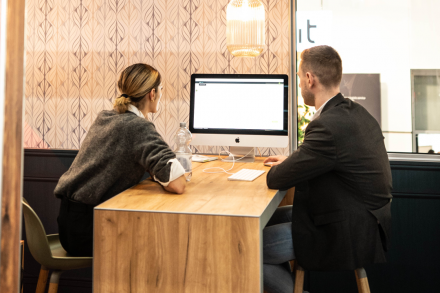 Carbon Footprint Calculator
After learning more about beCAD and all the tools it provides, attendees were fascinated by the new Carbon Footprint Calculator available on the MybeMatrix dashboard. This advanced tool helps users calculate the carbon footprint of their designs! Our staff walked guests through the process of setting up a calculation and how to measure the overall carbon output of designs. Many of the people who visited our booth were enthusiastic about this innovation since many of their clients are working towards improved sustainability.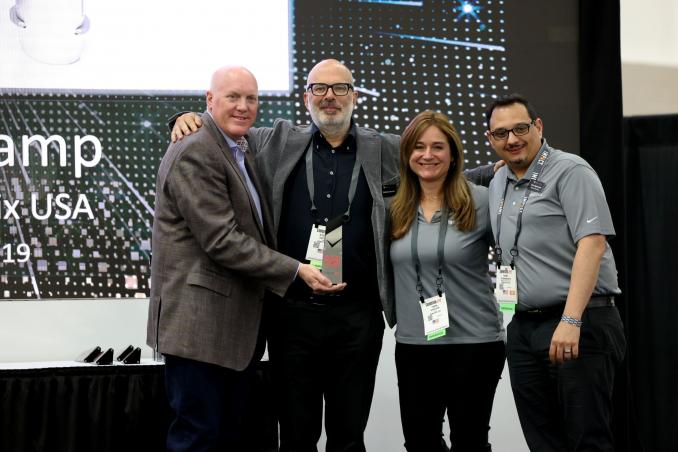 A major highlight of the show was winning not one, but TWO Buyer's Choice Awards! Part of the New Product Showcase, these awards are chosen by a panel of judges to recognize some of the latest and greatest product innovations. We are thankful to win for both Fast Clamp and beConstruct. In the picture above, you can see part of the beMatrix leadership team graciously, and enthusiastically, accepting the awards. Let's dive even further into the exhibit by going over the products that won these awards, as well as the other new innovations that we had to share.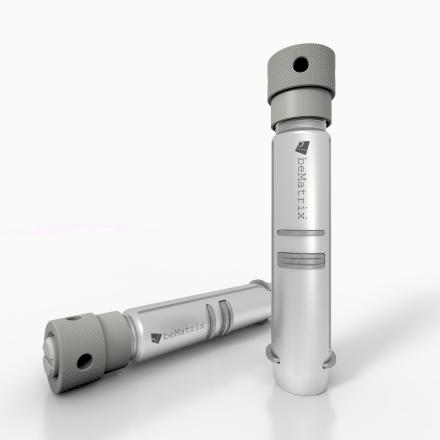 Fast Clamp
Fast Clamp is the latest evolution to their line of tooless connectors and was easily the product that drew the most attention from the crowd. Our staff demonstrated how this innovative new design cuts down on assembly and disassembly time. Legacy versions of the beMatrix connector needed to be inserted into frames and secured manually. Thanks to the new push-button-activated locking mechanism, connecting frames has never been faster or easier. Simply insert the connector, release the button, and twist the adjustment knob to connect and secure frames easily. Our guests couldn't wait to get their hands on the new connector, and it's no wonder that Fast Clamp received one of the two Buyer's Choice Awards.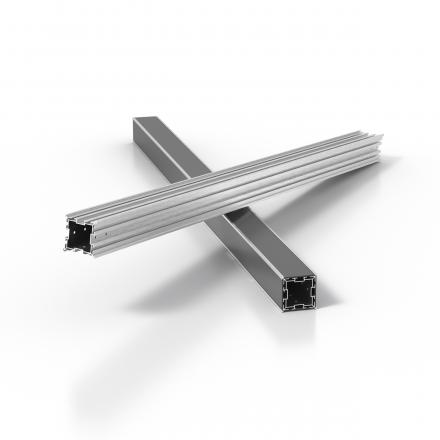 beConstruct
A good portion of our booth utilized the new beConstruct profile. beConstruct is a new extrusion profile that gives designers more freedom and the ability to make more open spaces. Compatible with existing inventories of beMatrix, beConstruct allows designers to customize their designs with larger spans and more versatility. A popular selling point was the fact that beConstruct includes a built-in channel designed to simplify cable management. When finished with infills, cables are easily hidden to provide a clean and sleek look.
Fast Clamp and beConstruct weren't the only new products we had to showcase. Much of our exhibit this year featured other great new products that we offer. Our staff enjoyed walking each guest through each new product innovation that we had to share.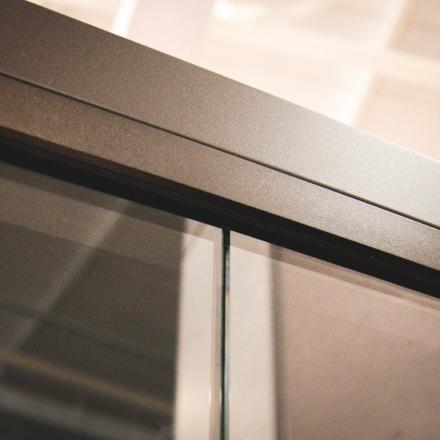 Glass Frame Profile
Designers were excited to hear that they can now fully incorporate a new kind of material into beMatrix® designs: glass. The beMatrix® Glass Frame Profile brings elegance and modernity to any beMatrix® build. Our guests were buzzing about the possibilities for their designs, anything from a small window to an entire wall of glass. It was exciting to hear some of the examples of possibilities that they came up with.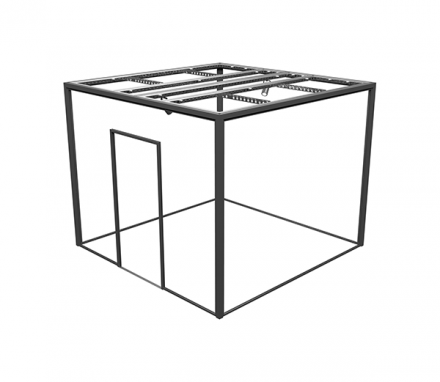 pop-IN
With such an open floor plan, we wanted to make sure to include a space where our guests could meet privately with our staff but still take in the view of the showroom floor. With its fully enclosed glass walls, pop-IN created the perfect meeting environment. Guests who toured our pop-IN learned all about its features, potential as a pop-up retail environment, practical meeting space, and more. To show how users can easily integrate with their existing stock of beMatrix, we incorporated LEDskin® into the pop-IN. pop-IN is highly customizable with textile fabric, hard panel inserts, LEDskin®, and even glass.
Big SAM Light
While our other innovations help exhibit builders create more open spaces, we also wanted to make sure they had a way to light up these spaces. That is why we were proud to showcase the Big SAM Light. You can connect up to 20 Big SAM lights to one power supply, perfect for illuminating walls 10 feet or larger! Our staff showed clients how Big SAM offers more light and design freedom than our classic SAM light, while remaining compatible with the rest of their existing beMatrix inventory.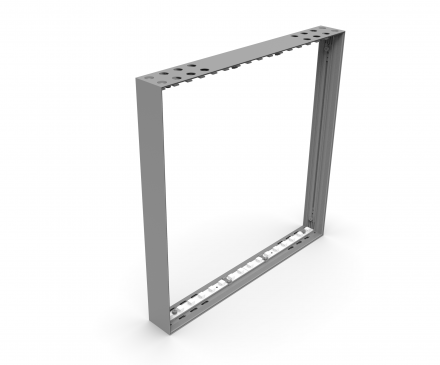 124D sideLED Lightbox
With so much open space available, we also took the opportunity to show off our new 124D sideLED Lightbox. By connecting it to beConstruct, we were able to implement perfectly illuminated design right over the heads of our guests. Our double-sided lightbox was easy to mount on beMatrix® frames and seamlessly integrated into our design. The clear and sharp images shown on the double-sided lightbox demonstrate just how customizable the 124D sideLED Lightbox really is.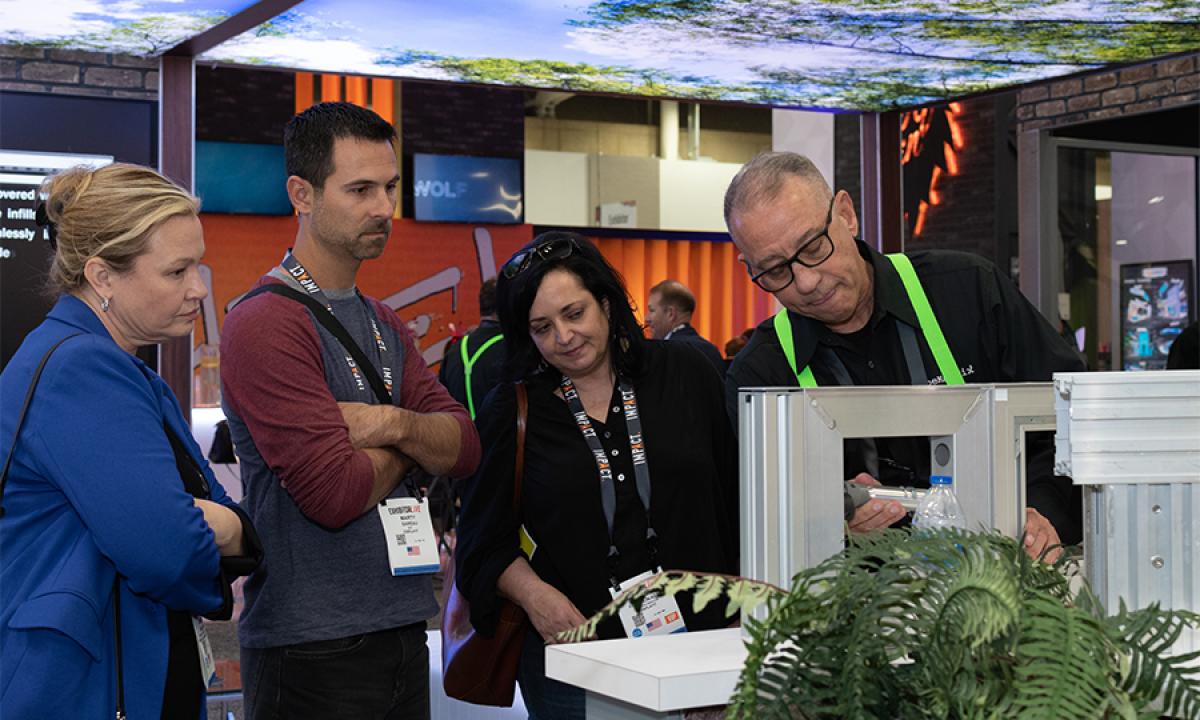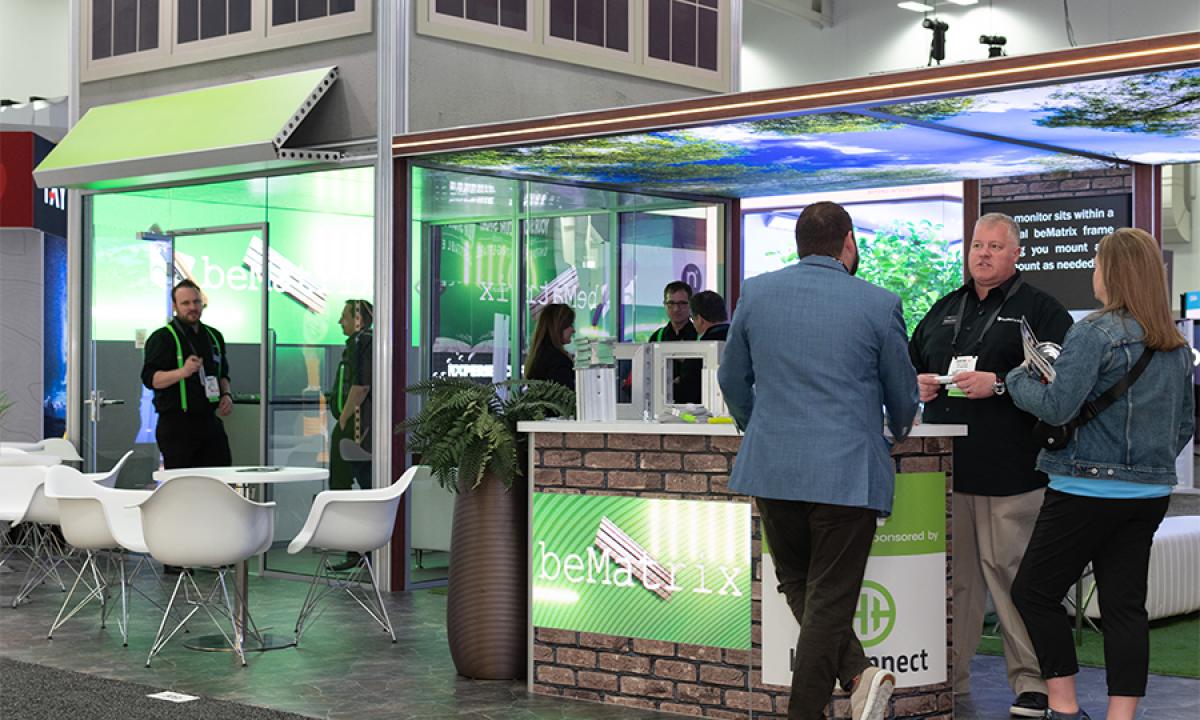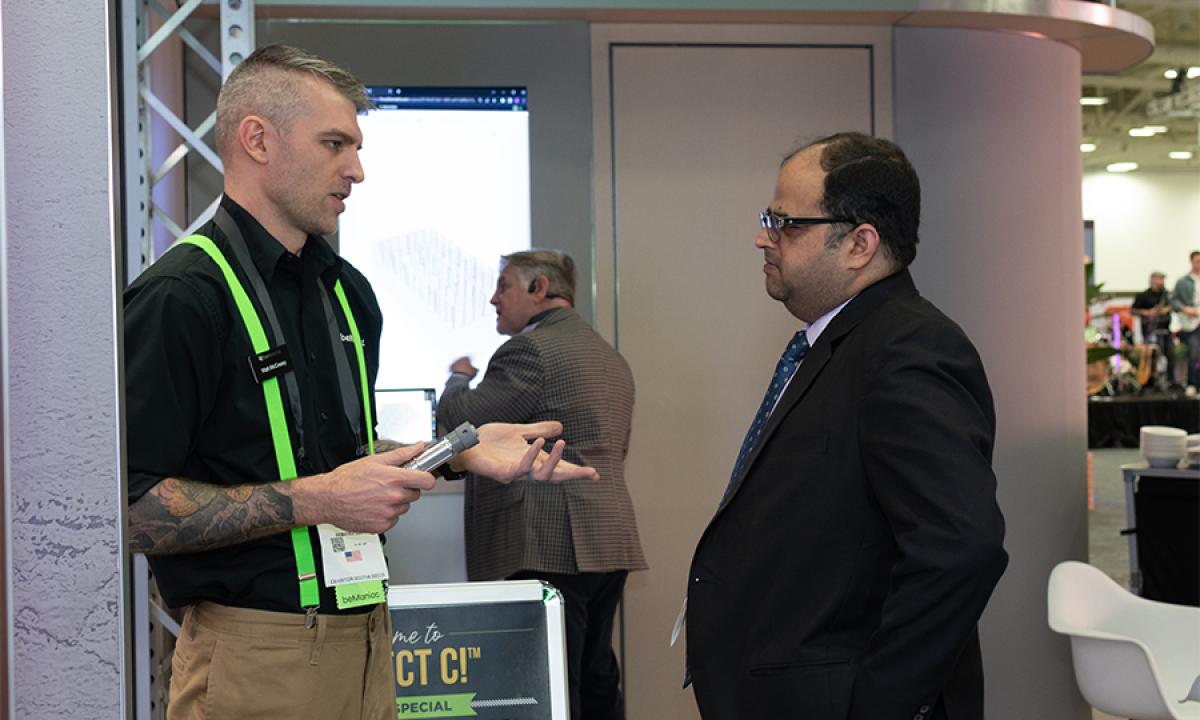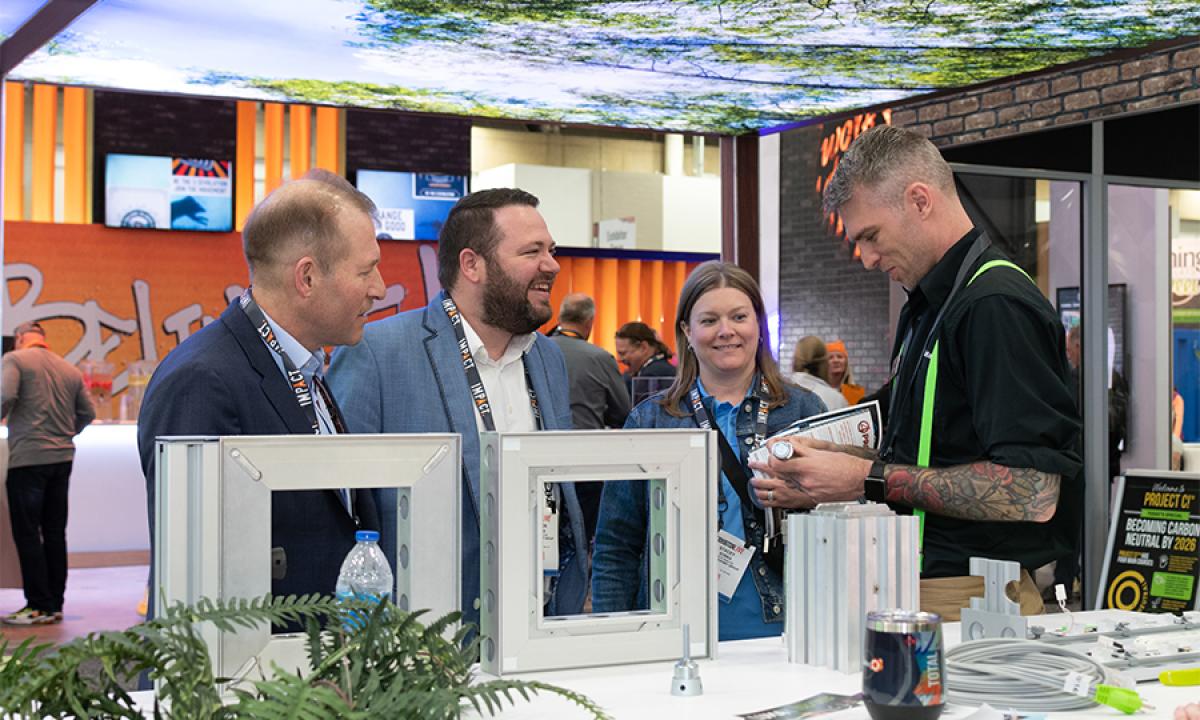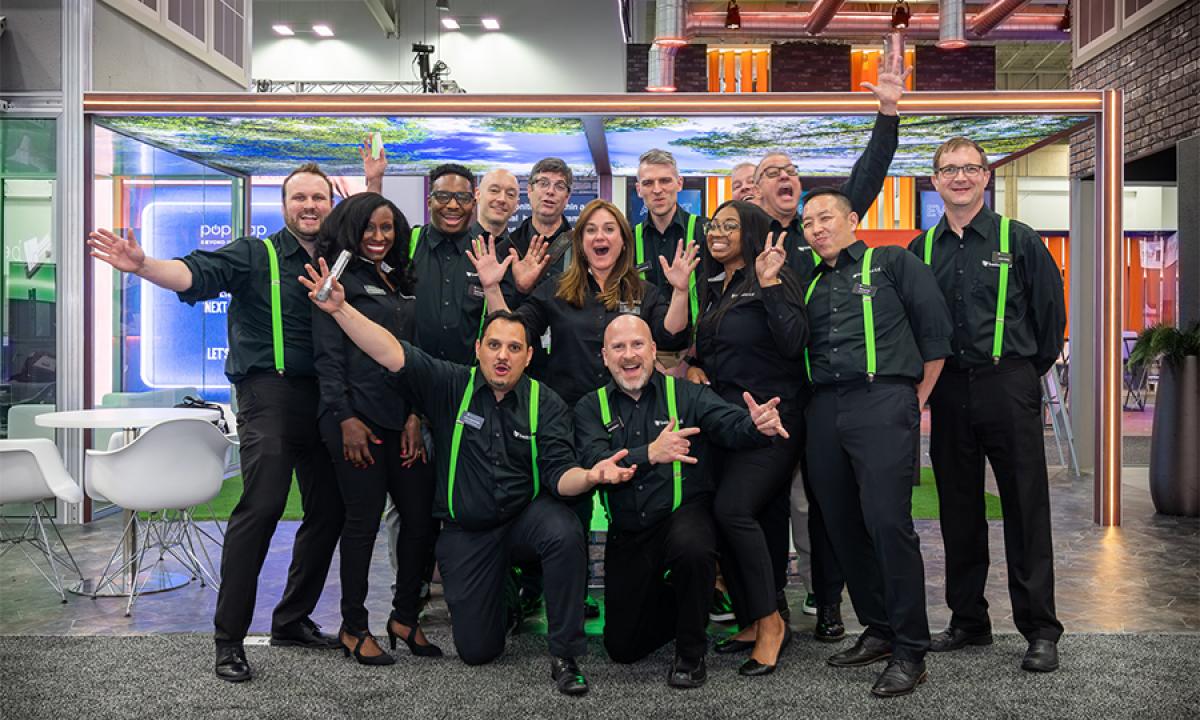 #Thankyou
We would like to thank our partners who collaborated with us on this project:
At the heart of our success are strong partnerships with companies like HT Connect, Eagle Management, Taylor Corporation, and CDI World. Working together towards a common goal has allowed us to create memorable and successful events like EXHIBITORLIVE. We thoroughly enjoyed meeting with all our guests and can't wait for our next show!